ITS Contact Information & Directions
ITS Technology Support Center (Help Desk)
Homer Babbidge Library, Storrs Campus
1st Floor
369 Fairfield Way
Storrs, CT 06269-1266
Directions »
Main Administrative Office
ITS – Temporary Administration Building
25 Gampel Service Drive, Unit 1138
Storrs, CT  06269-1138
Directions »
Homer Babbidge Library (BECAT)
Homer Babbidge Library, Storrs Campus
369 Fairfield Rd., Unit 1209
Storrs, CT 06269-1209
Directions »
Hartford Location
School of Social Work Building
38 Prospect Street
Lower Level | Room G02
Hartford, Connecticut 06103
Directions »
Main Number: 486.1425
Rick Dziekan: 486.1427
Armand Pomerleau: 486.6918
Mike Williams: 486.5485
------
Business Hours
Monday-Friday: 8:00 a.m. to 4:00p.m.
On-site support is not available on weekends or most holidays, unless scheduled.
Non business-hour support call work order control (facilities): 486.3113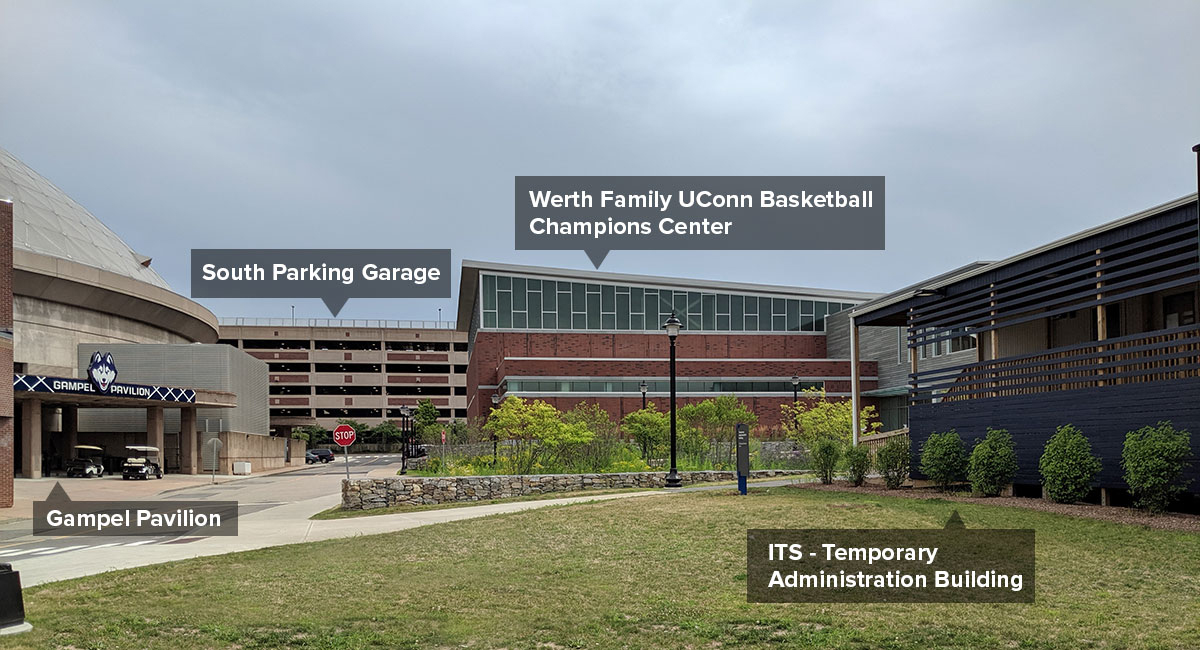 Upon arriving on campus, you may park in the South Parking Garage located at 2252 Jim Calhoun Way. The ITS-Temporary Administration Building is located across the street behind the Werth Family UConn Basketball Champions Center. To find the entrance, cross the street from the parking garage and follow Gampel Service Drive (a.k.a. Diane Wright Way) between Gampel Pavilion and Werth. Enter through the front door on the wooden porch.
Please note there are additional ITS offices located in the sub-basement and first floor of the Homer D. Babbidge Jr. Library, at Chaplin Cottage on the Depot Campus, and at the Solarium on the Depot Campus.
To find contact information for individuals, use the ITS Staff Directory.